What is a cyclocross or gravel bike tyre?
A cyclocross (also known as 'CX') or gravel bike tyre, is your main contact point with the ground - providing speed, traction, comfort and protection whilst out riding across a multitude of terrains. Your choice of tyre determines what characteristics and what performance benefits will improve your riding experience.
Tyre choice today is so vast, with so many variables to consider like weather, terrain, application and different levels of puncture protection. The following guide runs through all of the options, so you can make the best choice to suit your needs.
Understanding the different parts of a cyclocross or gravel bike tyre
Understanding what makes one tyre different from another can be confusing, especially when faced with all the technical terms and descriptions of each, making it difficult to know what to look for and deciding which is best for you.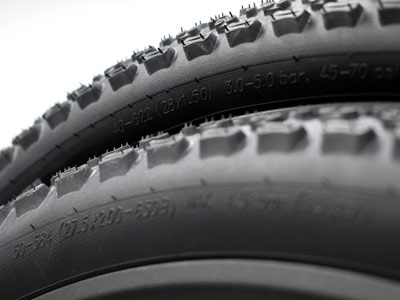 Wheel Size
Across the cyclocross and gravel market, there are 2 main sizes - 700c and 27.5"/650b. While cyclocross bikes are predominantly equipped with 700c rims, most gravel bikes have the option to run either size, to maintain versatility and suit the terrain and style of riding of the user.
The easiest way to know what tyre size you need, is to check what's written on the existing tyre already on the wheel, or check the manufacturer specification for the bike/wheel itself. Measuring the wheel is not recommended, as (confusingly) the diameter of the wheel is not the size of the tyre you need to buy.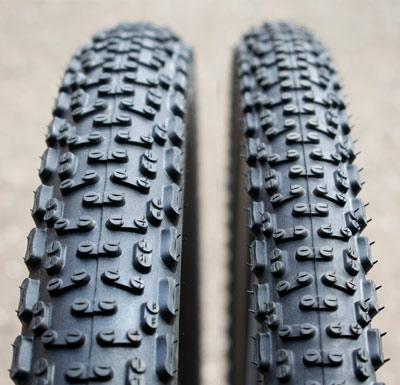 Width
Tyre widths are mostly personal choice, with some minor restrictions of rim width compatibility and frame/fork clearance, as mentioned previously.
The narrower the tyres, the more agile they are to turn, the faster they roll and the more efficient they are at transferring power into the riding surface. The wider the tyre the more volume you have to play with, the lower air pressure you can run providing benefits like increased compliance and grip on the most technical of terrain.
If you compete in cyclocross events, the UCI (Union Cycliste Internationale) has regulations in place that states 'for UCI sanctioned events the maximum width allowed is 33mm', so bear this in mind. However, at your local cross race, you can certainly go wider than this.
If you are unsure of what width may suit you, we'd recommend around the 38mm (1.5") mark as a starting point, across both wheel sizes. This size strikes a good balance between rolling speed and compliance, suitable for both road and trail like terrain, providing plenty of range to experiment with tyre pressure.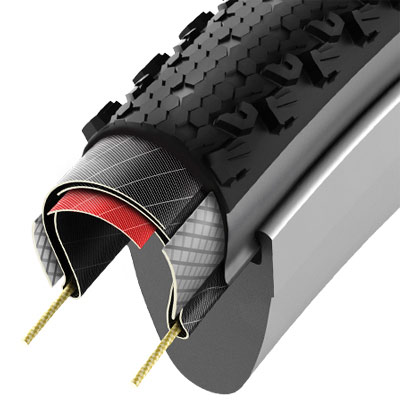 Casing and construction
What does 'casing' or 'carcass' mean? The casing is the overall construction of the tyre, from the bead (the part of the tyre that actually sits on the rim) up the sidewalls to the crown (top of the tyre where the tread is bonded). The fabrication of a tyre's casing contributes to many of its performance characteristics and is generally where the majority, if not all of the puncture protection is found, depending on the model and brand.
There is an abundance of options out there offering the best performance characteristics to suit your style of riding and terrain. From expensive tubular constructions for the racers wanting grip and compliance over protection, to folding bead or rigid bead variations, as well as the popular and robust carcass' like Maxxis' EXO, or Vittoria's CX TNT and Gravel specific construction focusing on reliability, protection and longevity amongst the most treacherous territory.
If you find yourself in need of assistance, differentiating between each type of casing and the key benefits, you can read about the different technologies used on the individual product pages. Or feel free to get in touch with us as we love to help.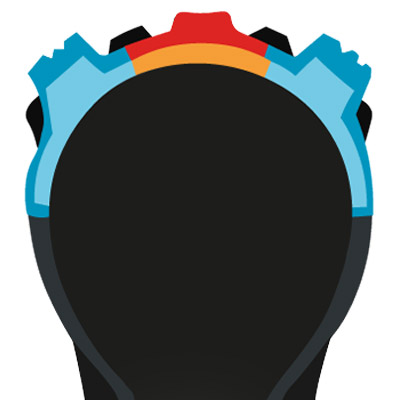 Compounds
Compounds are the mixes of rubber used to offer specific characteristics of the way the tyre behaves. With a soft compound at one end of the spectrum, offering compliance and grip, but noticeably reducing rolling speed and the tyres lifespan. Hard compounds at the other end, optimized for speed, rolling efficiency, longevity and aiding in puncture protection, with a loss of grip as a penalty.
If you're uncertain on what compound combination might be best for you, start with a single compound tyre construction like Schwalbe's Addix Performance or Vittoria's 1C Graphene enhanced offerings. These technologies have been developed to provide a great level of allround performance at affordable price points.
The majority of tyres today come equipped with technologies combining harder and softer compounds, providing the perfect blend of characteristics. The Maxxis Rambler as an example utilizes a harder compound locally to the crown of the tyre, where rolling speed and efficiency is vital, with a softer compound on the shoulder of the tyre to ensure grip when cornering and tackling off camber sections.
Vittoria uses additives like their proprietary Graphene 2.0 technology, to increase the performance characteristics, even if the tyre only is manufactured with a single compound. This technology significantly improves rolling speed, wet grip, mileage and puncture resistance, found in their Terreno range.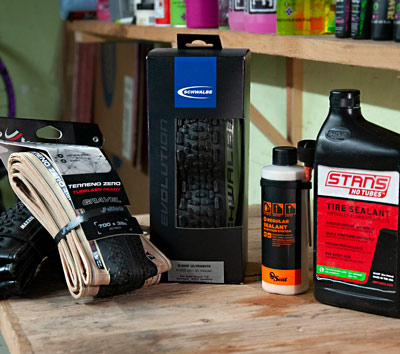 Tubeless
Popularity of tubeless technology is forever increasing, as the modern bikes today become more and more capable at tackling harsh and aggressive terrain, the pros of running a tubeless system far outweigh the traditional innertube method. However, it still is down to compatibility which on some of the lower price bikes is still an issue, so please check your manufacture information of your wheels and tyres to ensure you have the right equipment for the job.
The idea behind tubeless is to further increase performance attributes from tyres, focussing on improving the grip and the protection aspect, by allowing lower pressures to be safely run making the tyre far more efficient at complying to the uneven riding surfaces, whilst minimizing pinch flats.
What happens if I have a puncture? You may ask. With a tubeless set up, specific sealant is required to aid sealing the tyre to the rim upon inflation and seal any holes you may pick up from sharp objects and road / trail debris on your ride, saving you the time changing an innertube to get the all important miles in. Installation can be a bit time consuming and messy at times, but it's well worth the effort.
Keep a look out for an article specifically on tubeless set up coming from us in the future.
Which tread pattern is best for me?
The tread on cyclocross and gravel tyres varies from almost smooth file-like tread to full "knobblies" with almost every variation in-between.The pattern and layout of the tread can have different effects on how the bike behaves on different types of terrain. Considering the nature of Cyclocross and Gravel riding, covering a wide range of different terrains, choosing a tread pattern to suit all scenarios will be difficult and a degree of compromise between speed and grip should be expected.
Arguably the most important part of the tyre, tread patterns can be hard to choose from with such a variety on offer. Most brands have numerous options mainly biased towards the environment and weather that the tyre will be ridden in. Semi-slick road inspired tread patterns will perform better on hardpack and paved surfaces, optimized for speed and efficiency. Moreover, knobbly, more aggressive tyres are designed to offer grip and consistent control through thick mud, slippy grass and rocks.
Territory with unkept roads, cobbles, gravel and roughly paved surfaces (found typically in rural areas) demand more from your typical road tyres, where protection and additional grip is a priority, without sacrificing rolling speed.
Tyres like the Schwalbe G-One Speed are a perfect alternative with a tightly packed 'micro-dot' tread arrangement and a semi slick feel, delivering predictable control and pedaling efficiency, wet or dry. A larger volume option to a comparable road tyre will improve comfort by reducing vibrations and increasing small bump absorption.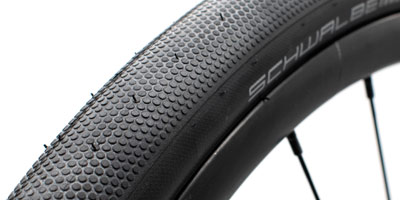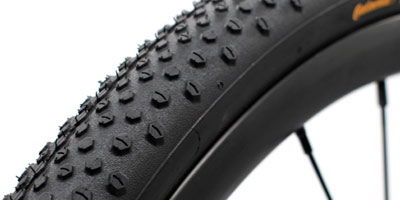 Focussing more on off-road terrain when you've ventured further onto hard packed, unpaved, dirt tracks and bridleways. The Continental Terra Speed's tread pattern and similar alternatives typically feature short knobs locally to the crown, striking the balance of delivering essential grip, whilst preserving good overall rolling efficiency, whereas the shoulders of the tyre feature a more prominent tread, gradually more spaced out and raised toward the extents delivering that all important bite when the terrain becomes loose and more technical.
When tackling technical terrain with a varied mixture of soft and hard trail surfaces for the majority of the ride, more capable tread patterns are required. With taller knobs a greater distance apart ensure good bite and shedding attributes when the dirt becomes wet, loose and unpredictable under foot.
Tyres like the Maxxis All Terrane exhibit this perfectly, featuring chamfered leading edges of the center tread to minimize rolling resistance and carefully designed sipes to improve pliability when faced with rocks, roots and everything in between.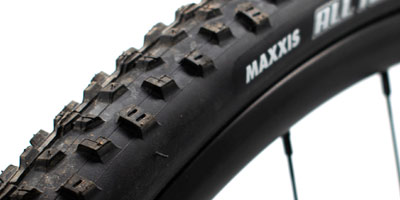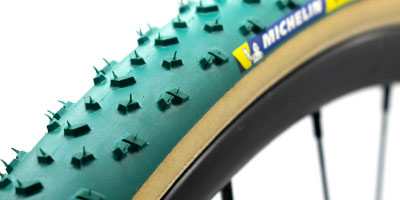 When out riding in adverse weather conditions, large downpours and mud can prove difficult to find grip and consistent control so having the right tyres is critical. Like any technical product designed to perform best in these environments, mud and wet weather specific tyres come into their own. Typically featuring generously spaced open lugs and a directional, alternating knob pattern to optimize mud and debris dispersal whilst penetrating the top layer of mud into the hard surface beneath. The Michelin Power Cyclocross Mud is a perfect example.
Try not to feel too restricted and that you need to match the same tyres front and rear, sometimes to gain the best performance output from you and your bike, we'd recommend mixing and matching tread patterns for front and rear use.
In the race environment you may want a grippier tyre up front giving you confidence in your direction, teamed with a faster pattern tyre on the rear that would be less likely to clog up with mud and deliver consistent traction. Continental's Terra range is a perfect example, the Terra Trail would be perfect up front with that little bit of extra bite, paired with the faster rolling Terra Speed out back.
Tyre pressures explained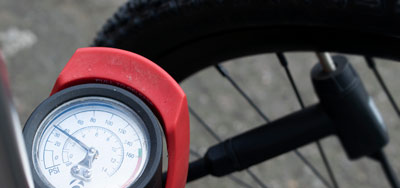 Tyre pressures are always down to personal preference but the cycling industry is seeing a rapid growth of lower pressures used across most disciplines. Generally, the larger volume tyre, installed with less pressure equals more grip and better comfort and compliance. Fitted on a bike with no suspension is pretty important to make sure you're comfortable, for the hours that you're out chasing those personal bests and battling those Strava segments.
Tyre Inserts
Inserts, developed over recent years, are becoming more and more common, proving to be a useful tool across all disciplines within the cycling universe. These are available from various brands and work by filling the vast majority of the tyre's volume, retaining the tyre's profile and requiring even less air pressure.
This combination not only significantly reduces pinch flats and associated rim damage but also further improves grip and compliance. Installation can be tricky but there are plenty of tutorials online to help if need be.
As punctures are commonplace and despite paying a premium, they prove to be a worthy investment as some branded tyre inserts enable the rider to continue with said puncture. This is achieved by retaining the tyres profile under load.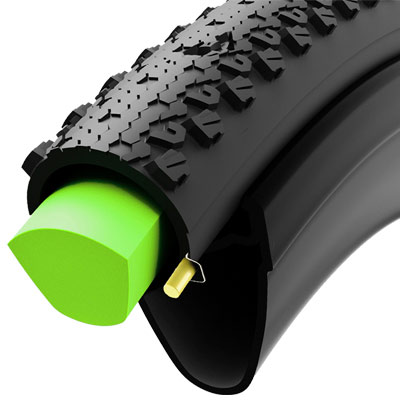 When to replace a cyclocross or gravel tyre?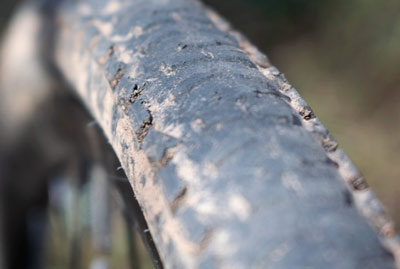 Even though tyre technology is so good in the modern world they all still have a limited lifespan. Deciding when to retire your current tyres can be a tough decision, so regularly inspecting their condition before or after every ride can be a good habit to develop.
We recommend scanning over the entire tread and sidewall to look for any slashs, bulges, discolouration, as well as any crumbling or worn down knobs.
If you're unsure, please don't hesitate to get in touch with us and send us some pictures to point you in the right direction, as safety should always be the utmost priority.
If you're using a tubeless set up check your sealant and valves too. Cleaning your valve cores in a soapy solution will ensure they are free of any particles. Sealant generally needs changing at 6 month intervals to ensure it will do its job properly and doesn't dry out.